Today we planned to tell you about the upcoming July 9th anniversaries of the International Court of Justice (ICJ) ruling against Israel's apartheid wall and the Unified Palestinian Call for boycott, divestment and sanctions and how we plan to mark these anniversaries, but we want to draw your attention to an important development in Israel/Palestine. Today the Israeli navy attacked and kidnapped the passengers and crew of the Free Gaza boat, The Spirit of Humanity, including US Campaign Advisory Board member Huwaida Arraf.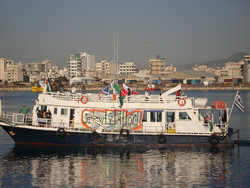 The Free Gaza Movement, which has organized several humanitarian deliveries to the Port of Gaza via their fleet of Cypriot boats, had one ship, the Dignity, rammed by the Israeli navy in December. Now, the Spirit of Humanity is being towed to Israel, where the crew and passengers expect to be handed over to the Israeli border patrol. Take action to have these humanitarian aid workers released.
The July 9th anniversaries are even more important in light of the capture of the Spirit of Humanity. The ICJ ruling makes clear that Palestinians do have rights to their land and to freedom from life in the sort of open-air prison that the Gaza strip has become. While Free Gaza boats represent a form of direct engagement to support human rights in Palestinian territory, boycott and divestment act as the other side of the coin, nonviolently pressuring Israel to live up to its responsibilities under international law.

---
Click here to send an email to the Israeli Prime Minister's office, the Israeli Defense Ministry, the Israeli Ambassador to the United States, and your Members of Congress demanding that The Spirit of Humanity's passengers and crew are released!
You can also use our website to find out how to get involved in July 9th activities in your area. Click here to take action for boycott and divestment online. Click here to learn more about how you can get the global boycott and divestment movement into the media. Click here to find out about July 9th events in your area or click here to find out how to join the US Campaign at our two Washington, D.C. anniversary events.

---
Learn More
You can learn more about the Spirit of Humanity's saga by following the Free Gaza Movement on Twitter or by visiting their website, here.
Israel's kidnapping of international humanitarian workers in international waters is exactly the kind of state failure to abide by international law that the Palestinian Unified Call intends to end. Boycott and divestment actions offer a nonviolent, direct tactic for citizens to pressure offensive governments and stand in solidarity with those whose rights are being violated.

We urge all of our member groups and individual supporters to plan or participate in a local action marking the July 9th anniversaries. Click here to find out about events in your area. For more information on the anniversaries of the ICJ ruling against Israel's apartheid wall and the Unified Palestinian Call for boycott and divestment please visit our July 9th Day of Action web section by clicking here. Start following us on Twitter or join our Facebook group now to take part in our July 9th online actions! Our Twitter and Facebook actions are both part of a campaign to educate the public about boycott and divestment and to call Caterpillar and Motorola to account for their support of Israel's military occupation and apartheid practices.
Source: US Campaign To End The Israeli Occupation